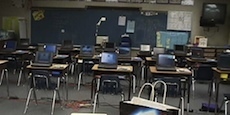 The Ministry of Education has developed a curriculum for integrating ICT in teaching and learning in preparation for the rollout of the National Laptops Project in January next year.
The curriculum is designed for Primary school teachers who will be trained before rolling out the project in January. Education Cabinet Secretary Jacob Kaimenyi officially launched the curriculum at the Kenya Institute of Curriculum Development (ICD).
He said the laptop programme for learners in primary schools will enable the Government to address access, equity and quality of education. "We need to provide our learners with an opportunity to access quality education anywhere anytime in the most cost effective manner afforded by ICTs," Kaimenyi said. The first phase starts in this August 2013 and will target 18,825 teachers from 6,275 public primary schools. Phase two will be effected in 2014 to train 21,138 teachers from 7,046 schools, with a similar number of teachers being trained in the final phase in 2015.
Read more at: http://allafrica.com/stories/201308081135.html ;