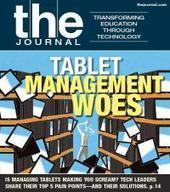 Are digital tools like cell phones and social networking sites undermining students' writing skills or helping to improve them?
A new survey of teachers from the Pew Research Center's Internet & American Life Project found that most teachers involved in the survey consider technology beneficial to writing in several ways, including creativity and personal expression (78 percent), collaboration (79 percent), and the ability to share their work with a wider audience (96 percent).
However, the news wasn't all positive. Among those surveyed, 68 percent said technology makes make students more likely "to take shortcuts and not put effort into their writing."
"These results challenge in many ways the notion that students' writing skills are being undermined by their increasing engagement with digital tools and platforms," notes Kristen Purcell, associate director for research at Pew Internet, in a statement released to coincide with the report. "Teachers do have concerns that digital tools are blurring the lines between formal and informal writing and see writing skills that need improvement, but they also see the benefit of students having more people respond to their writing and the increased opportunities for expression these digital tools offer."

Read more at http://thejournal.com/articles/2013/07/16/teachers-technology-encourages-student-creativity-makes-teaching-writing-easier.aspx#Stj68Cr6aOczEPJM.99 ;