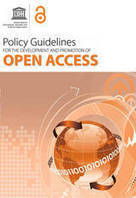 UNESCO issued this publication to demystify the concept of Open Access (OA) and to provide concrete steps on putting relevant policies in place. Building capacities in Member States for Open Access is a necessary but not sufficient condition for promotion of the concept. Creating an enabling policy environment for OA is therefore a priority.
This publication will serve the needs of OA policy development at the government, institutional and funding agency level. The overall objective of thePolicy Guidelines is to promote Open Access in Member States by facilitating understanding of all relevant issues related to Open Access.
The guidelines are not prescriptive in nature, but are suggestive to facilitate knowledge-based decision-making to adopt OA policies and strengthen national research systems.
More details at:
http://www.unesco.org/new/en/communication-and-information/resources/publications-and-communication-materials/publications/full-list/policy-guidelines-for-the-development-and-promotion-of-open-access/